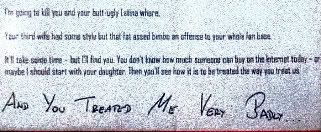 The photo on the right shows the actual letter authored by Heidi Schnitzer which she mailed to David Caruso. In it, Schnitzer threatens to murder Caruso and Liza Marquez, but states that she will start by killing his daughter Greta Caruso first. This letter spurred the FBI into action in 2007 following Schnitzer's first flee from Austria.

With Schnitzer having fled Austria again in April 2008 and now hiding out in Tijuana, Mexico, the U.S. Border Patrol has been placed on high alert. Each checkpoint has been furnished with photos of Schnitzer. When Schnitzer attempts to enter the U.S. her travel documents will be run through NCIC which will automatically show Schnitzer's outstanding arrest warrant. At that point, Schnitzer will be detained and denied entry into the U.S. with immediate deportation to follow. Authorities fear that Schnitzer will attempt to illegally enter the U.S. to carry out her threats against David Caruso and his family.

Be on the look out for this very dangerous woman and report any suspicious activity to the U.S. Border Patrol at 1-800-232-5378. Or contact the local police in Tijuana, the U.S. FBI or Austria's Bundeskriminalamt at +43-(0)1-531 26-0.