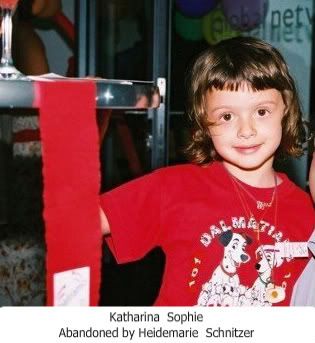 While Heidemarie Schnitzer, David Caruso's fugitive Austrian stalker, spends the holidays hiding out in Mexico's Baja peninsula, her daughter Katharina Sophie Putzer will not be seeing her mother for Christmas. Instead, Katharina will spend the holidays motherless after being abandoned eight months ago by a mentally unbalanced woman who would rather disparage and defame David Caruso than be a parent to this lovely child who is now probably a pre-teen.

Here at The Stalker Chronicles, we hope for this child's sake that her mother is captured soon and receives the psychiatric help she so desperately needs. Then and only then, will Katharina Sophie be able to reconnect with the woman she calls mother. Have a Merry Christmas Katharina with the family and relatives who love and care for you.

Heidemarie Schnitzer remains a fugitive hiding out in Mexico's Baja peninsula. Schnitzer is armed and considered to be extremely dangerous. Please do not attempt to apprehend this woman. Contact the U.S. Border Patrol at 1-800-232-5378 , the FBI at (310) 477-6565 or Austria's Bundeskriminalamt at +43-(0)1-531 26-0.